Here's the Little House That Could....that could hold all of us silly women and our antics that night! Alain snapped this picture as evening was just starting to fall.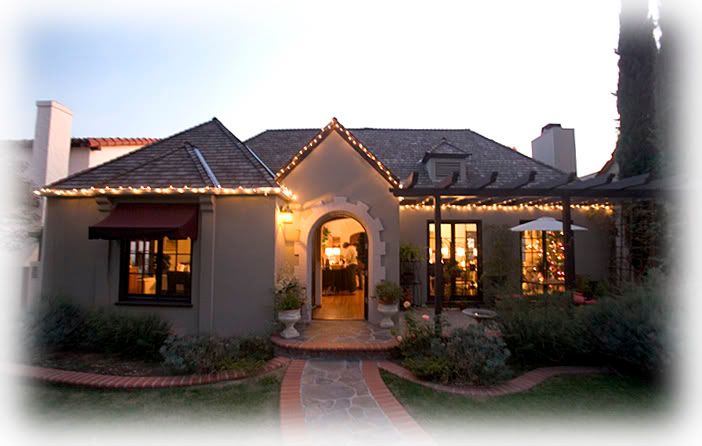 Here's Doris and I looking over some of her Christmas-themed papers, postcards, and books. I scored a series of four postcards that I am making into special Christmas cards for each of my sibs and my mom. I also found the coolest 50s card with a television set on the front, and you tuck little family members (including the cat and dog) behind the screen. Nathalie got that one!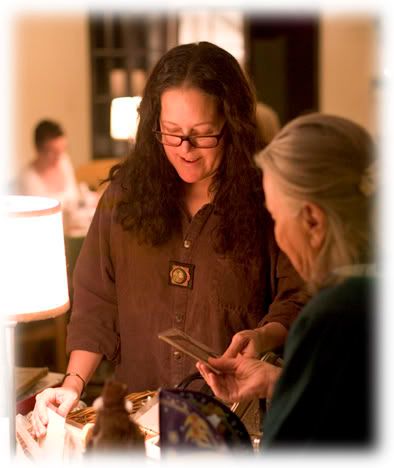 Alain's camera takes such better pictures than my little one, but I guess that's what 17 megapixels are for!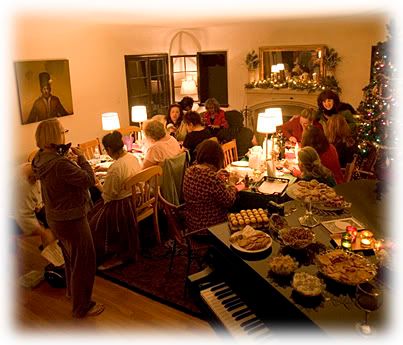 A better pic of Nancy Deline, who was voted best dressed for the party. A very talented artist to boot. We just love her!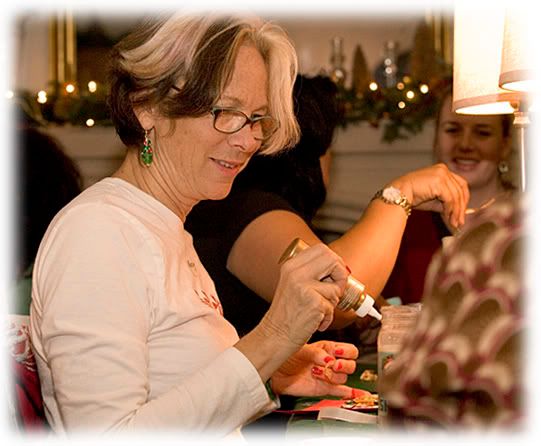 Who's that hottie in the Versace glasses? That's Lynn, talking up a storm; turned out she was perfect seated with Ericka and her mom, Susie, who had just gotten back from a trip to France about a month ago. Best locales, where to stay, and wine recommendations were all on the slate that night!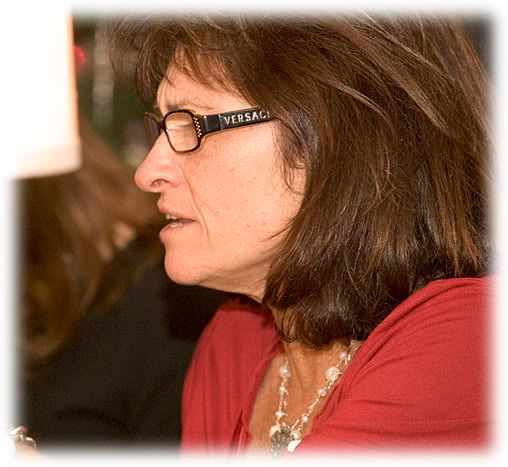 Look at these two hooligans! You can tell they are trouble, just by the look of them!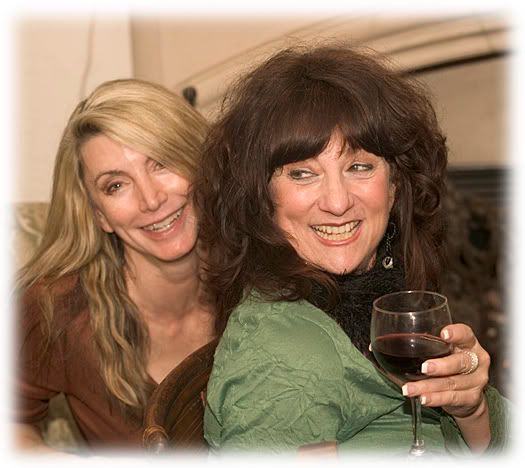 Here's Ericka's lovely smile, always ready to light up the room...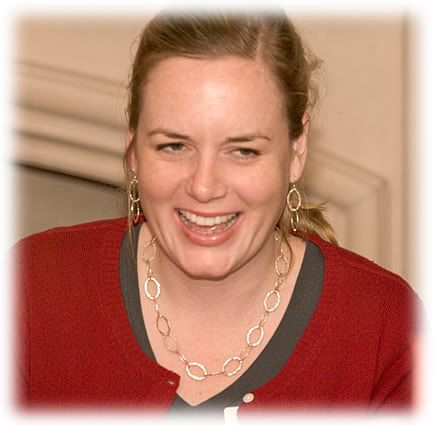 Another shot of the main tables in the living room, awash in paper, crepe, dresden trim, foil leaves, papers and scissors. It was a sight to behold!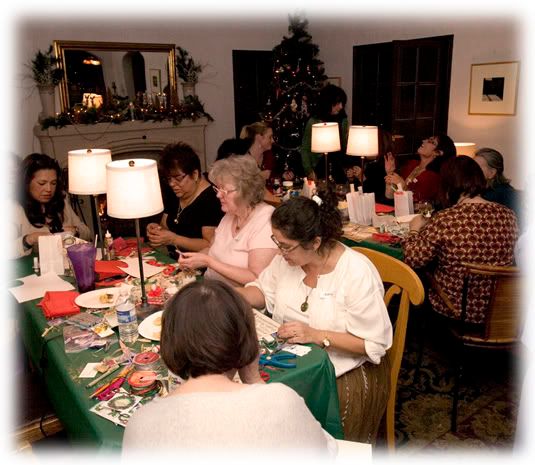 Everyone so enjoyed the dinner Alain served and asked for the recipe, so here it is:
BRASATO al BAROLO ~
Serves 4


2 tablespoons olive oil
1 (3- to 3 1/2-lb) boneless beef chuck roast
1 teaspoon salt
1/2 teaspoon black pepper
1/4 lb sliced pancetta, finely chopped
1 medium onion, finely chopped
1 medium carrot, finely chopped
2 celery ribs, finely chopped
4 garlic cloves, thinly sliced
4 (4- to 6-inch) sprigs fresh thyme
2 (6- to 8-inch) sprigs fresh rosemary
2 tablespoons tomato paste
2 cups Barolo or other full-bodied red wine such as Ripasso Valpolicella, Gigondas, or Côtes du Rhône
2 cups water (
Note: Alain substitutes his own homemade beef stock here, for richer flavor
)

Special equipment: a 4- to 5-qt heavy ovenproof pot with lid

Put oven rack in middle position and preheat oven to 325°F.

Heat oil in pot over moderately high heat until hot but not smoking.

Meanwhile, pat meat dry and sprinkle with salt and pepper.

Brown meat in hot oil on all sides, about 10 minutes total. (If bottom of pot begins to scorch, lower heat to moderate.) Transfer to a plate using a fork and tongs.

Add pancetta to oil in pot and sauté over moderately high heat, stirring frequently, until browned and fat is rendered, about 3 minutes. Add onion, carrot, and celery and sauté, stirring occasionally, until vegetables are softened and golden brown, 10 to 12 minutes. Add garlic, thyme, and rosemary and sauté, stirring, until garlic begins to soften and turn golden, about 2 minutes. Stir in tomato paste and cook, stirring, 1 minute. Add wine and boil until liquid is reduced by about half, about 5 minutes. Add water and bring to a simmer, then return meat along with any juices accumulated on plate to pot. Cover pot with lid and transfer to oven. Braise until meat is very tender, 2 1/2 to 3 hours.

Transfer meat to a cutting board. Skim fat from surface of sauce and discard along with herb stems. Boil sauce until reduced by about one third, about 5 minutes, then season with salt. Cut meat across the grain into 1/2-inch-thick slices and return to sauce.


Cooks' note: Beef improves in flavor if made 3 days ahead. Cool completely in sauce, uncovered, then chill in sauce, covered. Reheat, covered, in a preheated 350°F oven until hot, 25 to 30 minutes, then slice meat.



OVEN ROASTED POTATOES with FRESH ROSEMARY

These potatoes are the easiest thing in the world to make. I used two bags of red potatoes, and cut them into chunks. Lightly oil a roasting pan with olive oil, and toss the potatoes with herbes de Provence, chopped garlic, chopped onions, sprigs of fresh rosemary and more extra virgin olive oil. Roast in a 350 degree oven, tossing gently from time to time until tender. Salt and fresh ground pepper to taste. Et, voila!


P.S. The salad comes from Costco, and is called the "Grand Parisienne." It comes with everything: nuts, cranberries, crumbled cheese, and that wonderful white balsalmic dressing. It's a winner!
To everyone who attended, let me say thanks for your wonderful company, and the support you have lent me throughout this first year as a standalone store. The emergence of Lily as a hub of creativity for so many talented women has been an unexpected surprise, and undoubtedly the greatest gift I could ever have received. Santa doesn't have to leave a thing under the tree for me this year; I have a wonderful, supportive husband, a daughter who never lets a day pass without telling me she loves me and believes in me, and a circle of friends who have enriched my life beyond all telling. Thank you, again ladies, for each moment we have spent together this year. Happy Holidays!