Thursday night's Paper Party was so much fun, and I started the afternoon by lighting the rooms with candles sent to me from my "German-Jersey" friend Deb. Aren't they wonderful? They looked so beautiful on the dark green table covers, and started warming the room immediately with their soft light...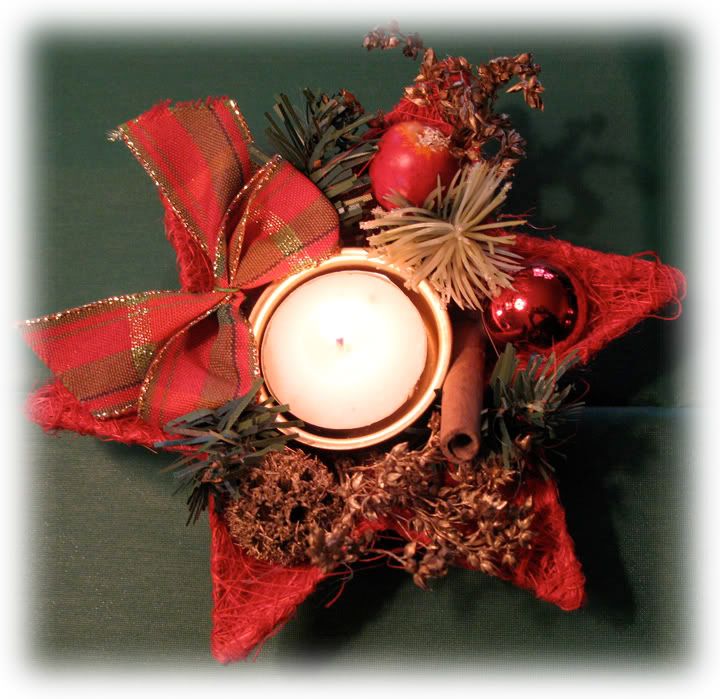 The calm before the paper storm...somehow I managed to have enough table space and chairs to seat everyone, between the dining room and the two tables in the living room...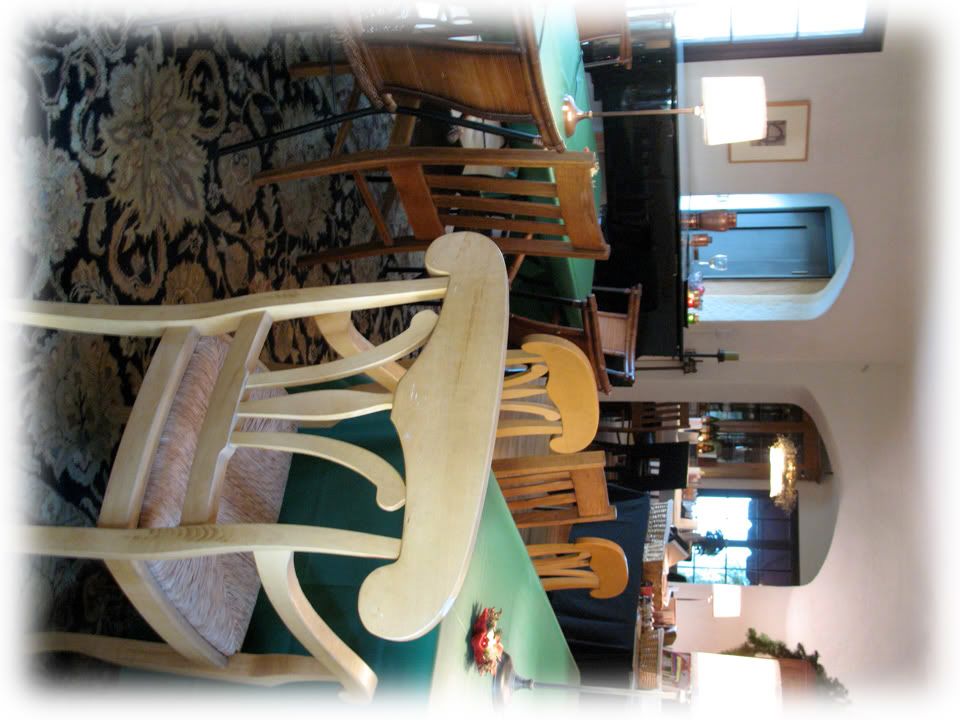 I love this! I found a wine for us to share that fit the occasion nicely, lending a little "Gilded" frivolity to the evening...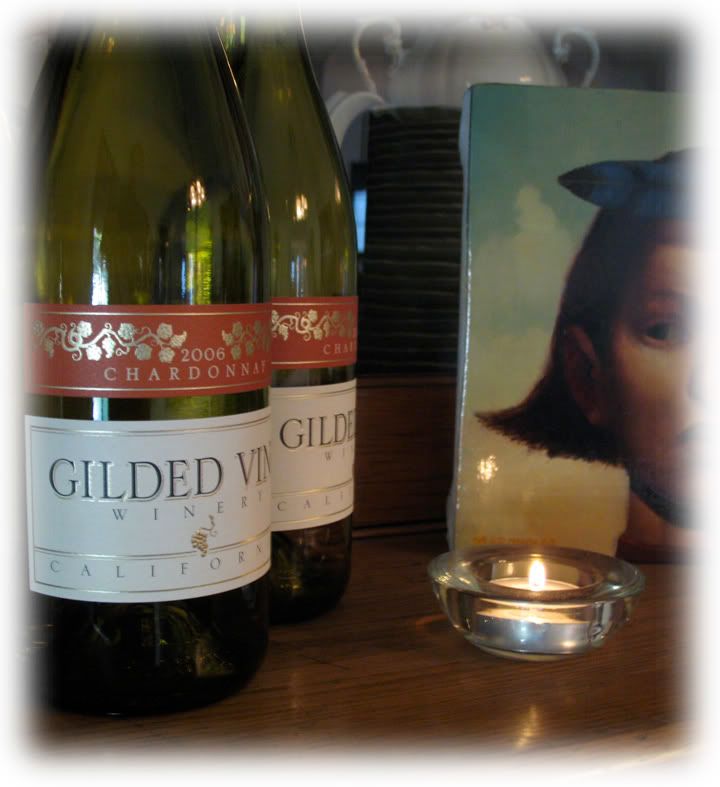 We were once again graced with the presence of Mr. Ringle Pringle, this time decked out for the holidays. He got to meet Noodge, 'Tini and Cricket for the first time, and took a liking to little Cricket, of course, who is the most like him in size. 'Tini, being the nervous Nellie she is, barked and shrieked at one point, and Noodge seemed perplexed by the whole turn of events...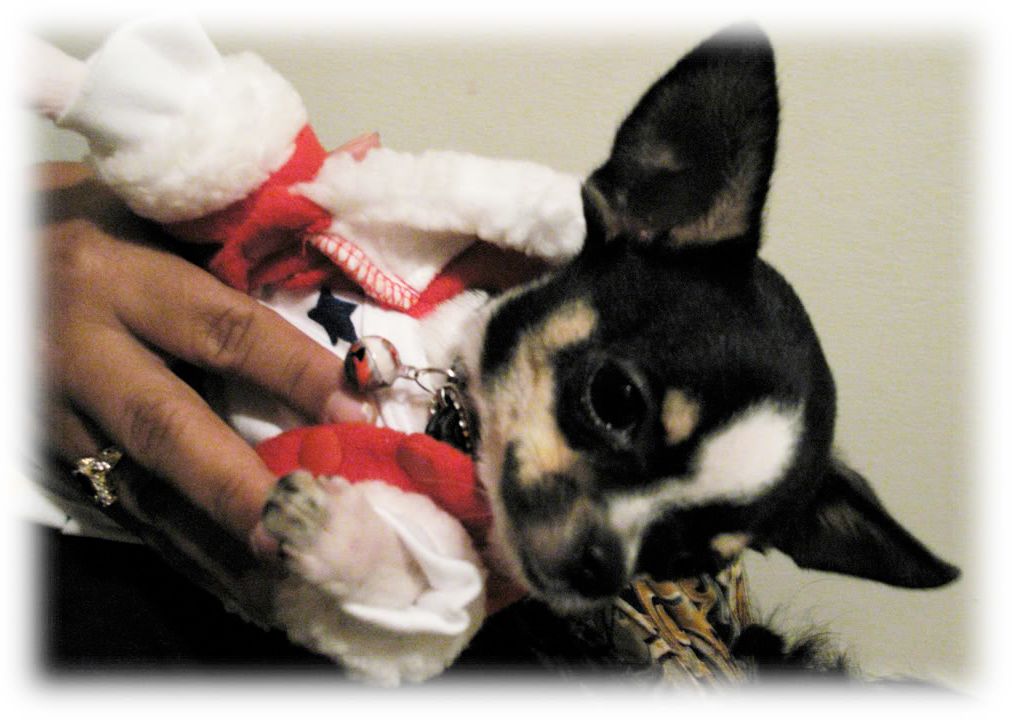 Here is one of the beautiful ornaments created at the party, Diane McKillip being responsible for this bit of loveliness. She inspired many others to turn the frosted Japanese leaves in their goodie bags into similar creations...one talented lady!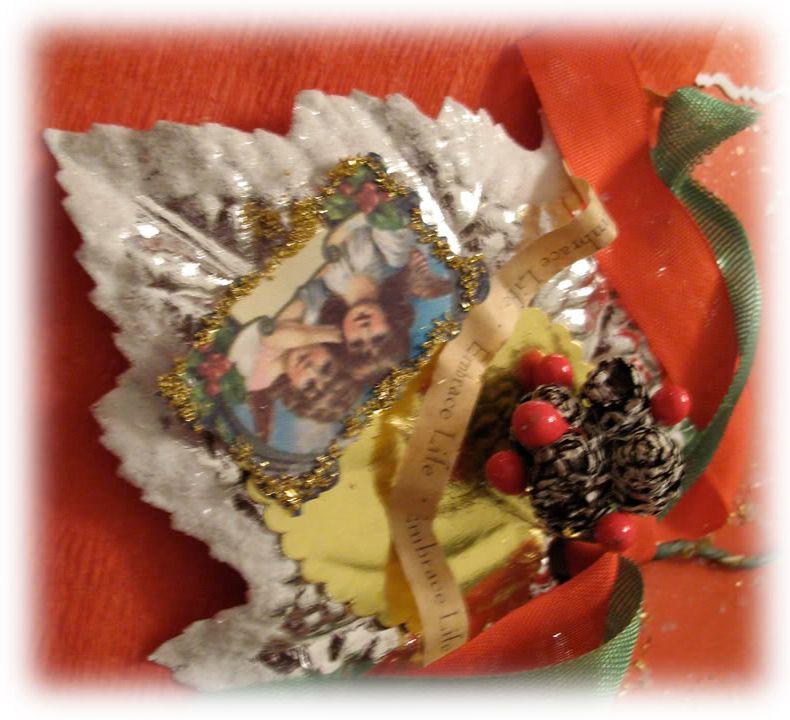 Another little Santa on his way to being incorporated into an ornament or tag...
Some of the activity in the living room: I see Becky, Sabrina, Kathy, Maria, Ada and Alicia hard at work, while that layabout, Linda Hayward soaked up the firelight like a cat!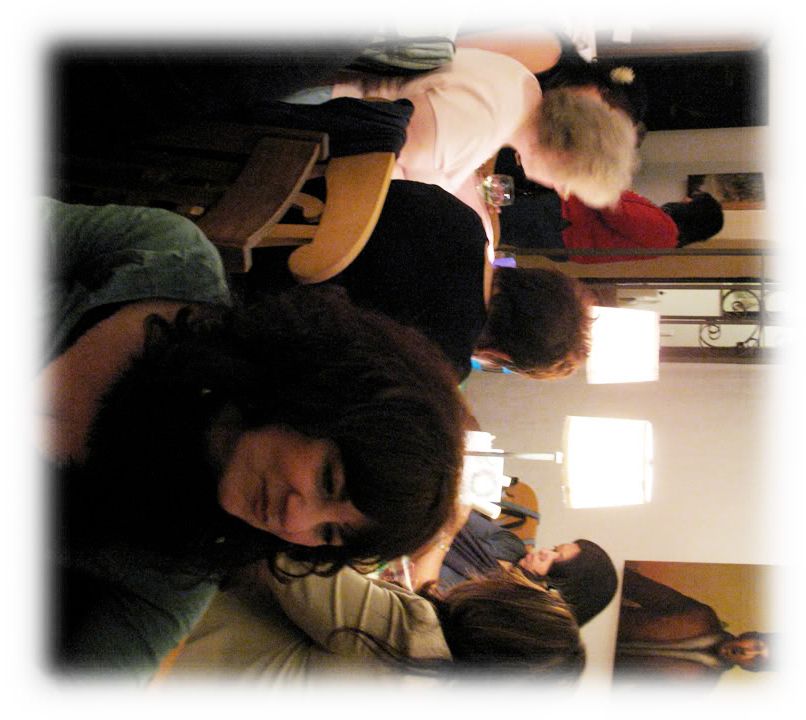 Our Dede was sitting across from Susie Overland and her daughter Ericka, and next to Nancy Deline who was a welcome surprise, and dressed to the nines in a holiday outfit make from vintage Christmas fabrics and the most darling and magical boots you ever laid eyes on...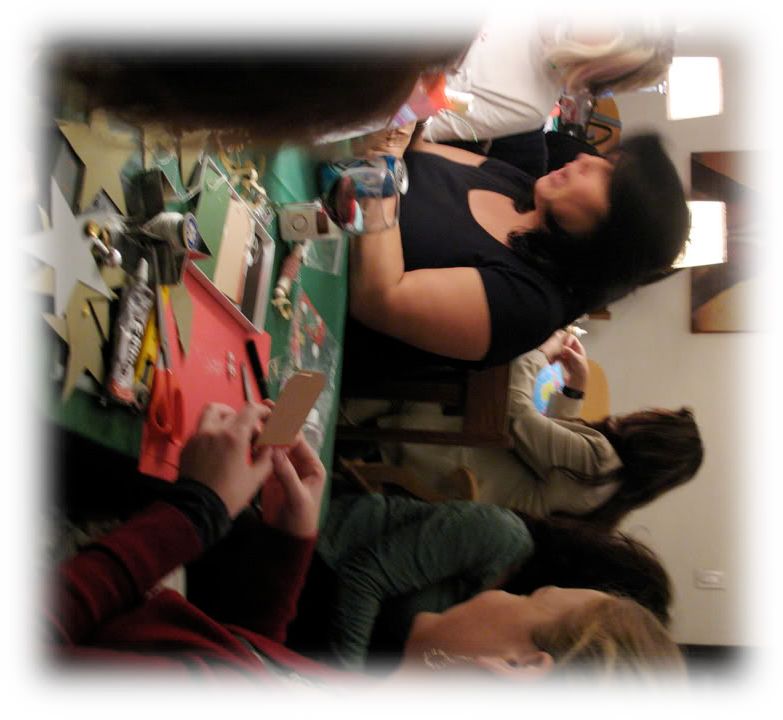 Connie and her friend (an my new friend!) Nery chat while they settle in and unpack their supplies. Connie is really becoming quite the wiz at jewelry making, and now Nery has caught bug, especially for buttons! She designed an amazing button bracelet with vintage chain and some beautiful Victorian black and gold intaglio buttons...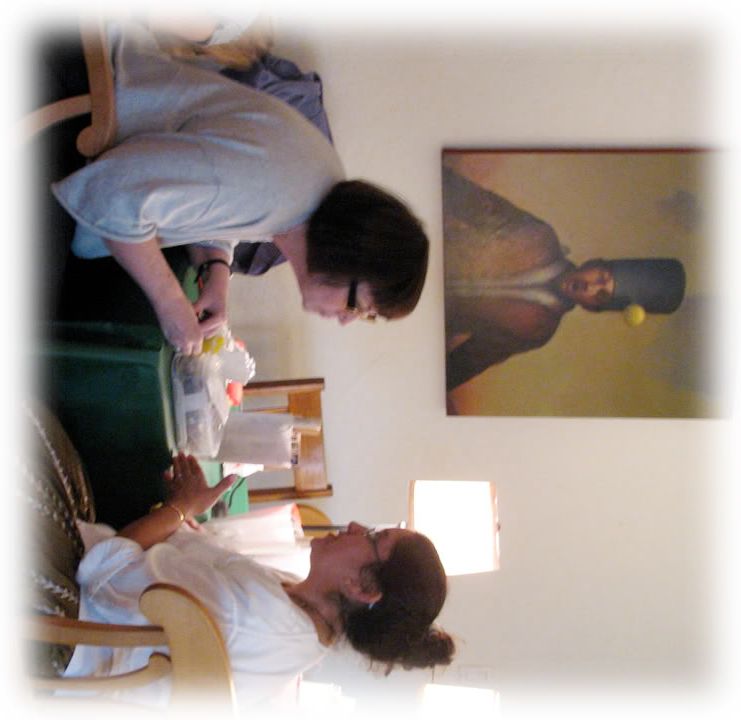 Here's Karen, Connie's partner in crime, who also have been working on projects lately in the store, and creating some lovely necklaces with an extraordinary collection of lockets she has. And Marilyn from on the rocks was able to join us as well!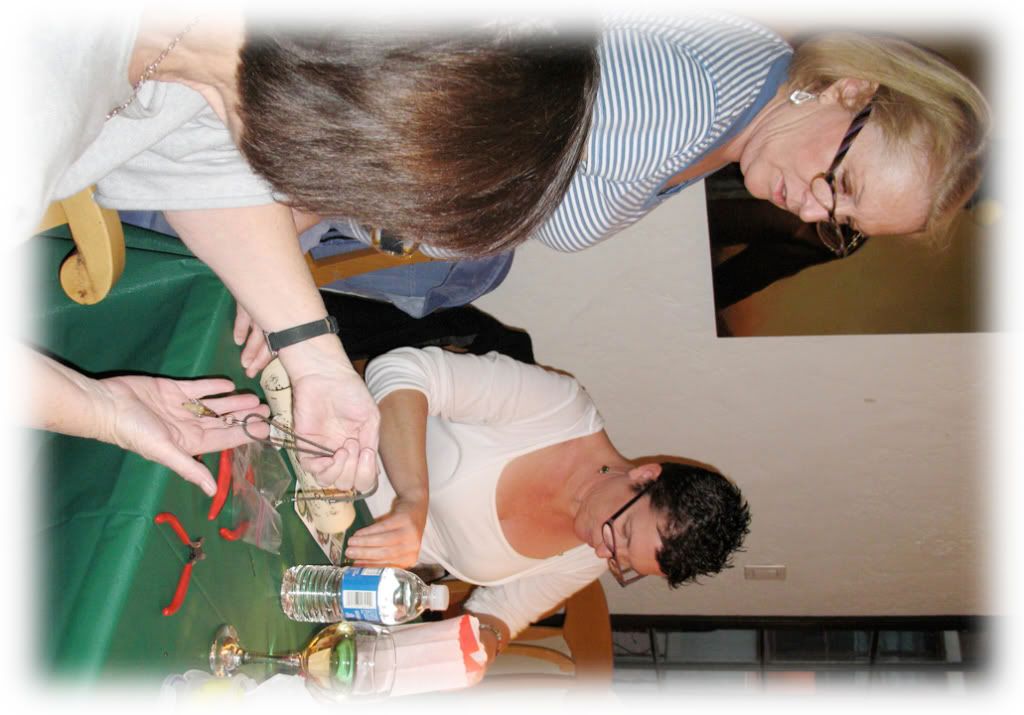 Becky brought her little Featherlight and created a beautiful tag with a miniature quilted pinwheel on it. Ada had Ringle tucked in his little sling next to her heart, even though you can't seem him in this picture. That little man has been taking classes at Lily with Ada, and is the most remarkably well-behaved puppy I have ever seen...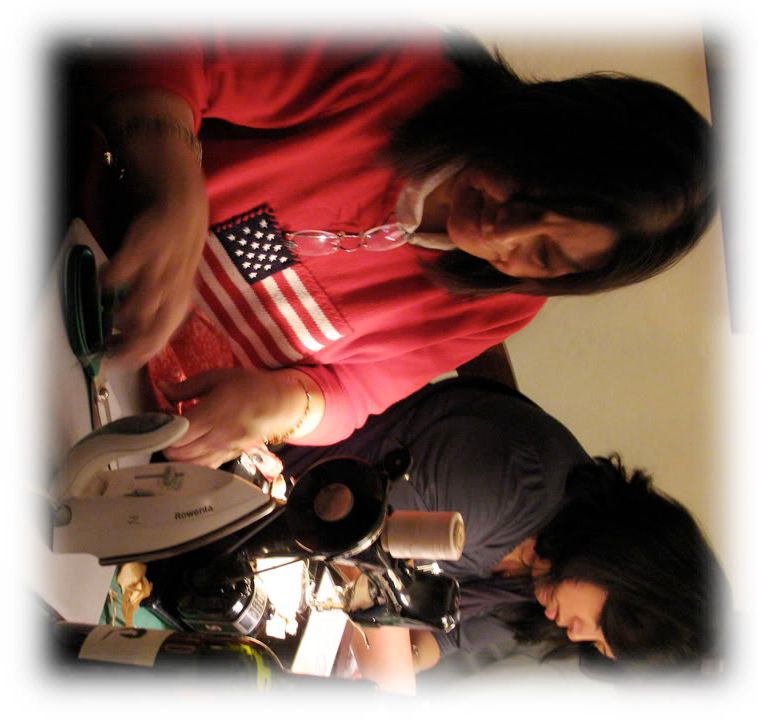 Here's Ada again, sitting across from Kathy, and Celia working away next to her. We had such fun that night, and it was a lovely way to round out our year, just spending time together.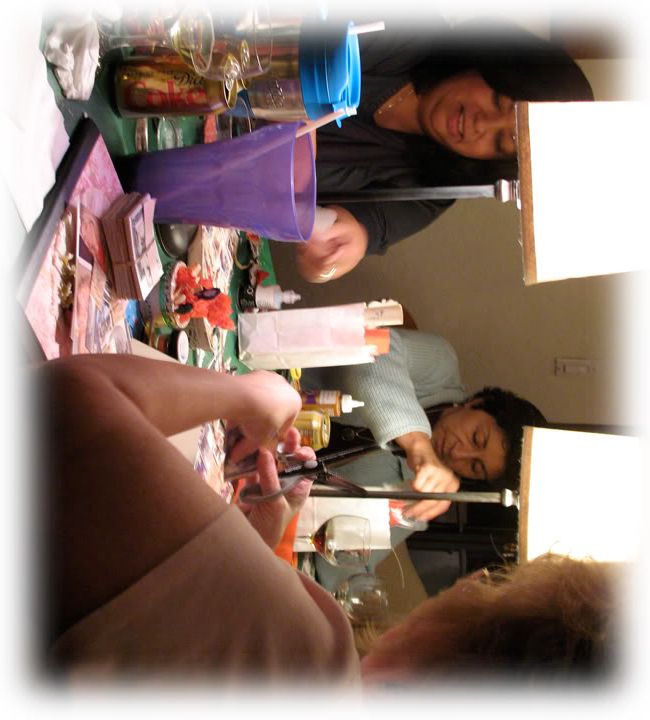 Alain's wine braised tri-tip was a big hit, as well as the oven roasted potatoes with fresh rosemary and herbs. We filled our tummies with that and a lovely salad, and lots of little bites that everyone brought to share. Mr. Gilding acted as our "event photographer", too, getting out his equipment and snapping some pictures, so I will post more photos
and
the recipe for the tri tip! Stay tuned!