Yep, it's that time again, and the excitement is building for the annual Craft and Hobby Association shindig. Dede and I are going again this year, and I hope to cover more ground than I did last year...my goodness, it's a huge show with so much to see. But at least now I have one year under my belt and have a better idea of what the show is all about.
Dede and I will go on Monday, and we'll be stopping in at Stampington to see
Kristen
and
Ruth
, who will be doing some demonstrations there...how fun is that? I wish I could devote more than one day to it, but the schedule won't allow it this year, so I'll try and cram every little bit of ogling and sampling that I can.
For those of you traveling in from out of the area, we welcome you to stop by and see us at the store. There's lots of fun new stuff (and old) stuff in right now, including many exceptional millinery flowers, little forget me nots in lots of colors, vintage findings and chain, and lots of ideas to noodle. Just show your CHA badge when you visit to receive 15 percent off your purchases.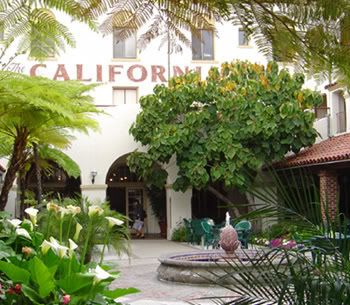 We are looking forward to seeing some of you while you're in town! Don't forget that the historic California Hotel (now known as Villa del Sol) where we are located is a wonderful spot with charming 1920s Spanish Colonial architecture, and a courtyard with fountain where two restaurants serve lunch.
Below you'll find a simple map and directions from the Convention Center; you can always call the shop and get directions as well: (714) 680-8893, or (714) 349-2069 cel. See you at CHA!