Thursday night's pesto party at the house was very fun, and enough pesto was consumed to render us all socially unacceptable, but very full and happy. Thanks to Melissa's beautiful organic basil, I was able to make a large batch of my favorite recipe with a few tweaks...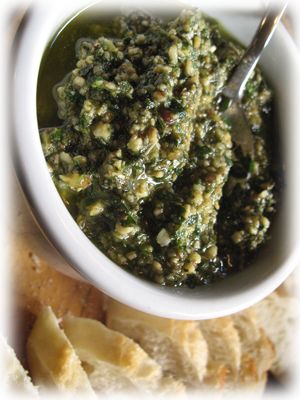 The price of pine nuts right now is astounding, so I only sprang for a half pound, opting to replace the rest with some beautiful walnuts. My favorite peccorino romano was available, eliminating the need to season the pesto further, shown here with some fresh baguettes from La Brea Bakery....
Just so the pesto wouldn't get lonely, or perhaps smug and boastful being the only dish on the table, I prepared a few other little dishes to nosh on, including this salad of grape tomatoes, fresh mozzarella, red onions and Italian parsley. A little bit of the pesto went into this, too...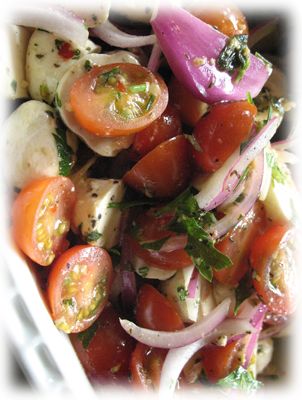 As far as I am concerned, you can't have good bread and not have olives, so I prepared one of my favorite mixes, a big bowl of black, green and kalamata olives (no picholines on hand, unfortunately), drenched in good oil, cloves of garlic, bay leaves, lemon zest, thin slices of lemon, sprigs of fresh rosemary, and a good sprinkling of mignonette pepper....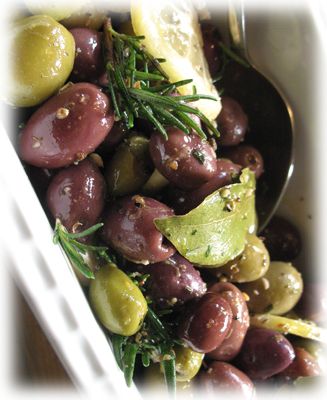 Alain grilled up red, green and yellow peppers, zucchini, and Italian sausages, which, with the addition of some delightfully vinegary dilly beans, some spicy asparagus, and pepperoncini, finished off our little repast....