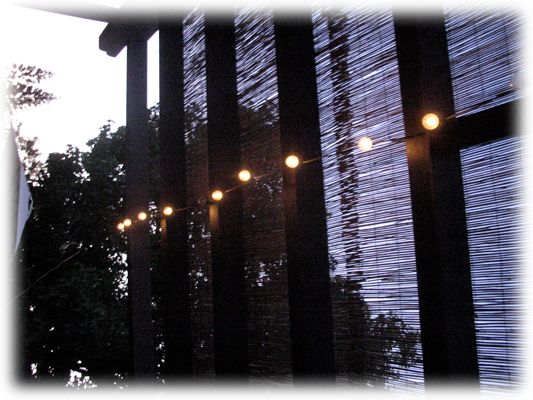 Although a few weeks late, we did get to celebrate Belgian Day at our house. Normally, the holidays fall like dominoes in July, with our American celebration taking place on the fourth at my sister's house, a nod to the French on the 14th for Bastille Day, and the 21st of July set aside for recognizing Belgium, Alain's home country. At the insistence of friends, we found a date that worked for almost everyone and gathered last Saturday to prepare the traditional

moules-frites

.

The boys had their requisite Friday night peeling party, preparing the potatoes for the next day and leaving a huge vat of them in water on the patio. Tom's wife Jeannie made homemade mayonnaise for dipping the

frites

, and Tom manned the fryer, turning out some exquisite fries. Everyone brought something to share, which turned out to be both a bounty and a drawback, as we never progressed beyond the sliders on mini kasier rolls that have somehow become a part of the traditional fare (mostly for those who can't abide mussels, but they are delectable, too). The answer? Belgian Day redux on Sunday.

Some of the same players were there, but Tom and Jeannie were not able to make it due to another commitment. Nathalie and Erik joined us, and Judi and Tony, our neighbors three doors down, joined in. Tony, an artist and painter, long ago owned a fish and chips shop, and slid into frymaster position with ease. Judi, an artist and illustrator in her own right, is one of my favorite people, and kept us all in stitches with her acerbic wit. Dennis, Bernice, Marilee, and Linda rounded out the contingent.

Here is one of the pots of mussels...one steamed in Belgian ale, the other in white wine...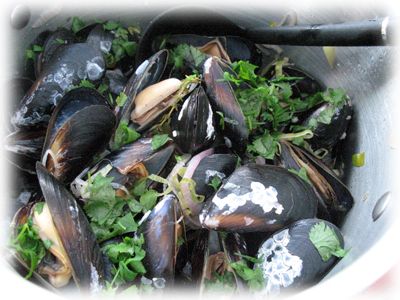 And the

raison d'etre...les frites

!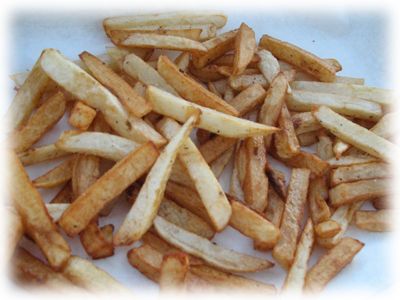 We all ate too much, talked and laughed too much, and by the time Alain brought out his homemade cheesecake with a simmered blueberry-strawberry-Grand Marnier sauce, we were begging for mercy, but managed to struggle through somehow. The weather was divine, breezy and balmy, and it was the perfect summer celebration, out on the deck, perched among the trees. As M.F.K. Fisher said, "There is a communion of more than our bodies when bread is broken and wine drunk..."

All I'm saying is, in the midst of daily struggle, too many hours of work, and too little time for ourselves, just a little bit of that leisurely communion makes life so, so good.