Little by little, things are finding their place in the new space at home. The little closet off the laundry room has been sacrificed for the sake of storage, and I was lucky enough to find some architect's files on craigslist that fit in nicely. Once I started dragging all my stuff home, it became apparent that I would need something similar to what I had at the store to keep it "under control."
Here's a shot from the tiny space where the two sets of files reside, and my lovely little thread cabinet I scored at Glitterfest a couple of years ago sits on top of them. The drawer that is open holds an assortment gemstones, and a collection of the brass and African silver beads that I am currently working with...
This little corner was presentable enough to snap a very oblique picture. It shows part of the beautiful - no, make that astounding - shell-encrusted mirror that Judy Mackey created and I fell in love with at Iva's show up north....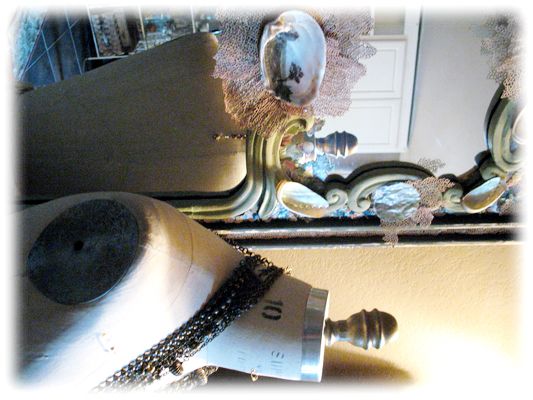 Check out the gorgeous Victorian hand painted shell in the center, and her work with sea fans, little polished abalone and vintage graphics. Keep your eyes on this gal...she is so talented. More to come!