Another
wonderful class yesterday with Dede, our second here at the house. We have had such wonderful feedback from our students, who are liking the fact there is more room to spread out, and are having fun hanging out at our little old house. Here's where we have been gathering to create, my dining room with a big table and lots of natural light. The weather has been so fine, we've been throwing open the old sash french windows and letting in the breeze and the sound of birds in the vine outside...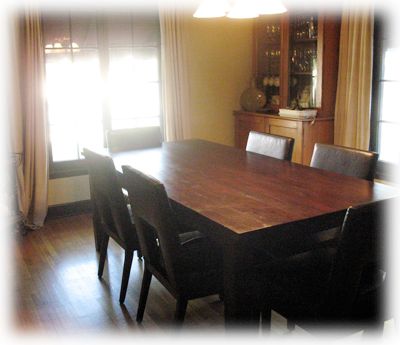 Everyone enjoys seeing the art we have at home, too, and I was looking at the pieces hanging in the dining room and elsewhere, and thinking how appropriate they are. On the wall at the head of the big table hangs one of my favorite pieces by Ray Turner, a portrait of two women seated at a table. They seem to be gazing down very solemnly at our efforts....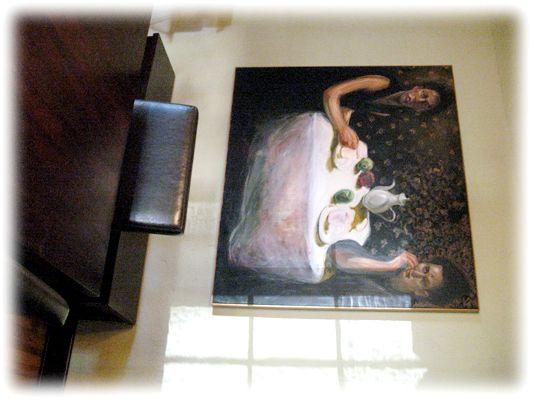 On another wall is a beautiful portrait of an old woman, wearing a wonderful hat and holding an ostrich plume. I love this piece, as I bought it at a very special show of art years ago. The woman in the painting was named Lala, and she was an artists' model and muse all her life. My friend and gallery owner Sally curated the show herself, which was composed entirely of portraits of Lala done over the years, each by a different artist. Best of all, surrounded by all these artistic visions of Lala, was that she herself attended the show. She was in her nineties at the time, and it was such an incredible experience to meet the subject of the art I would soon take home with me. This portrait was painted by Patricia Terrell O'Neal...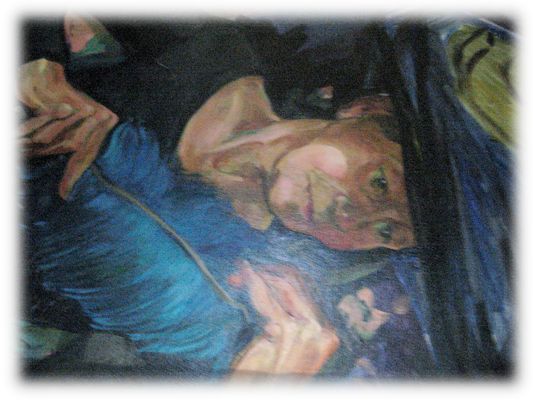 Adjacent, in the living room, this piece by Michael Brown hangs over the piano. He was just in his twenties when he painted this, a student at Savannah College of Art and Design. Sally found him there and presented him as an emerging artist. This piece is called "Song of the Lemon Catcher," and I love the surrealistic tone of this painting and the magical quality it has. It made me think about how elusive art can be sometimes, and how when you arrive at that moment when you know it is right, it is a bit like magic...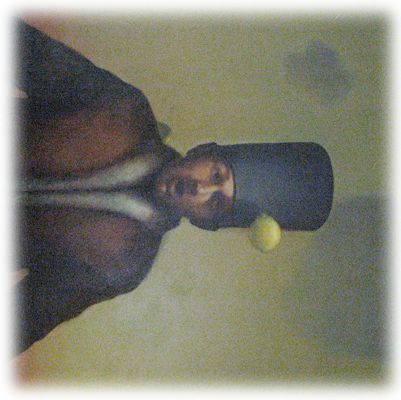 In the hallway, this little canvas stands on a table, at least for now. Another painting by Michael, the subject is young woman who looks sidelong while a blue feather hovers over her forehead. I makes me think about how difficult it can be sometimes to balance our lives so that we include artistic expression as a normal facet of life. That is something I will be trying harder at this year, to make the hard part of art more effortless....