Okay, if there's someone out there whose heart doesn't beat a little faster at the sight of this, then you're a stronger person than I. When I landed on a box of metal thread last weekend, I could barely contain myself, especially when I saw the huge spool of silver tinsel, and the bolts of rose and pale pink...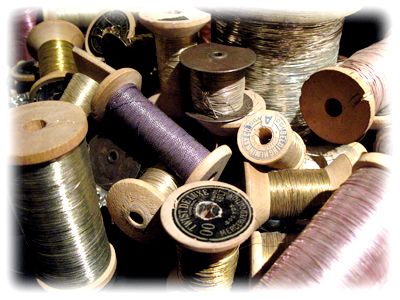 So, I essentially blew my budget on the thread, but managed to turn up a few other things that day, among them a beautiful half doll lamp that will be debuting in the shop as soon as Mr. Jamar finishes rewiring her. For the time being, she stands skirtless and mortified on his desk...
These beautiful little filigrees are in the store now, as part of a jewelry design and for purchase for your own designs. I darkened them with the gold and silver darkener and burnished them a bit for their close-up...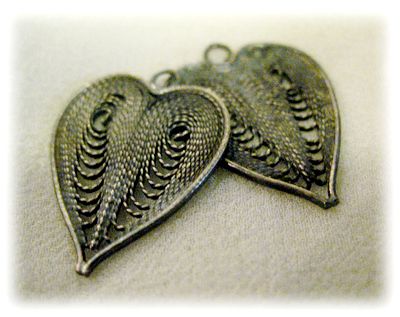 Being a fleur girl, I couldn't resist these heavy brass pieces, and proceeded to beat one up and patina it immediately. They came to me with considerable original patina, but a little dip enhanced the texturizing. Stuff like this does tend to get the wheels turning, and I expect I will play around with this a little today while I am in the store...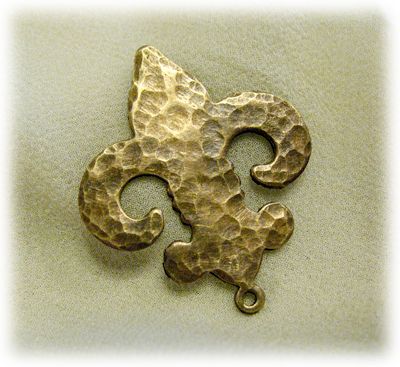 My time off yielded a few new projects, and cleaning my space and doing hard time organizing has paid off, as I actually know where to find things when I need them. I am probably ready to bring another batch of stuff home and load it in to the small flat files in the closet. The earrings below were a marriage of vintage brass chandelier hoops, old mother of pearl, tiny garnet rondelles and nuggets, and antique mercury glass bugles from my stash. A little time intensive, but I love how they turned out...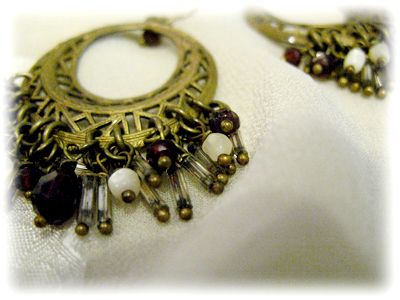 I have been all over using connectors for earrings lately (

and am placing an order for some this morning...stay tuned!

) and these combined a three loop Damascene style piece with faceted mother of pearl rondelles, tiny brass filigree bead caps, garnet briolettes, delicate chain, and two old French religious medals...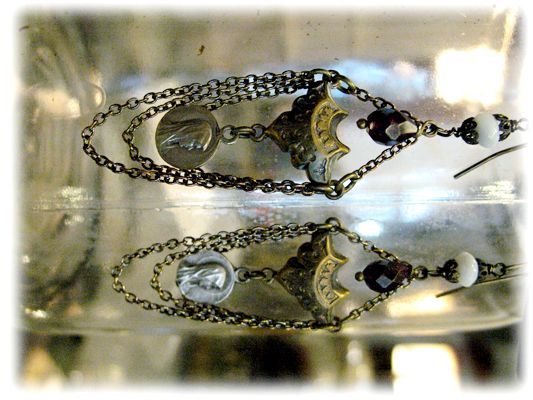 Haskell pearls are one of my weaknesses, as you know, and I broke into a hank of little 5mm, satiny-finished ones from the 1930s. Channeling Haskell's penchant for bracketing her pearls with diminutive fluted caps, I fetched some of these up from the store and darkened them for this project. The focal bead in the middle is a recycled Nigerian glass bead. I love their hand faceted look and the slightly less-than-perfect clarity that makes them look so old. These mimic a typical Czech design from the twenties...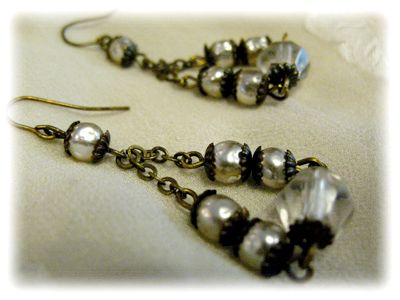 We have some new faceted mother of pearl in the store, as well as some flat oval mother of pearl with a great old look. I bought as much as I could, and will try and post some pictures soon of these lovely strands...