I love a rainy Sunday, especially when I am going to be home (at least for the most part...there was that trip to the store to pick up patina solution, some chain, and so on), and I started the day by cleaning up my little space downstairs and readying to work. Last week's breezes had laid a fine grit of dust all over everything, and as usual, the bouganvillea had managed to slip some papery brachts under the door sill. When it was all whisked clean with the vacuum, I set in to clear my work surfaces and stash projects that didn't need to be finished right away, and supplies that could go back to their drawers.

I gave up on the idea of swiveling back and forth between the two desks, admitting to myself that the area rug bunching up under the casters of my chair wasn't the most pleasant thing, and brought my second chair out of the closet. Now that the majority of my things are stowed in the flat files there (not that there isn't a lot more sorting that needs to be done), I am not perched there for hours at a time trying to make sense of it all. So here it is, in one corner of my little room, waiting for me to finish up a findings order in front of a stack of catalogs...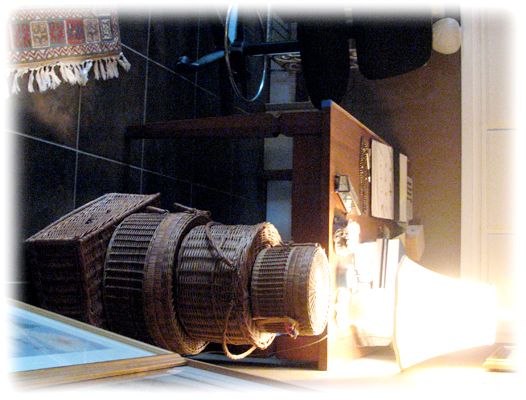 Two pieces of art still don't have a home and lean against the wall at right, serving for the moment as nothing more than an armature for the webs of the industrious spiders that always seem to creep in from the back yard. They'll find a home soon enough. Next to them are my favorite hat baskets, the largest one a gift from my sister years ago.
Below is the sweetest little bust. She's nothing but spelter, and well worn at that, but I do love her. Her playful expression reminds me not to take myself too seriously. Next to her is a wonderful honey and jam caddy with a spoon drip that holds my pins for now. Dede and I found it the last time we were at the flea market.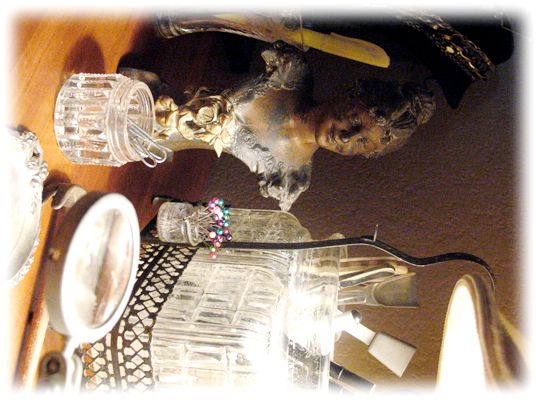 And I do have something to show for my labors today. I finished up all the token necklaces, and they are polished and ready to go. Here they are before assembly, with the ball chains and pendants waiting to be joined. It has been one of my favorite little designs, simple and just good fun. More to come...