This is what has been in our bowls for breakfast this week. It's not unusual for us to eat a breakfast of miso soup, grain and greens a couple of times a week, a holdover from our macrobiotic days, and we also have a love of Vietnamese and Indian food as well. We had planned a trip to T&J down in Little Saigon, but other things intervened, so I pulled out this Thai seasoned stock which includes a healthy dose of lemon grass and sriracha...yum! This stood in for my usual homemade shiitake ginger broth as the base for our morning soup. If you can find this at your super, latch on to some...it's delicious!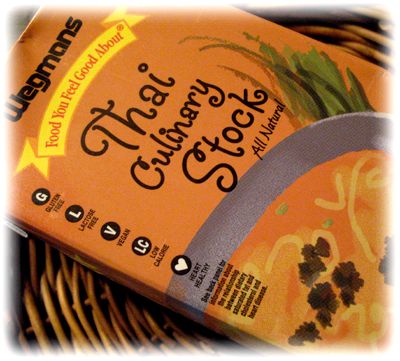 We'd had soup for dinner last night, something Alain had been wanting to try, an Indian recipe made of sweet red peppers and tons of spices. I guess we still had a hankering for those flavors this morning...here is what we ended up having...a multi-cultural breakfast!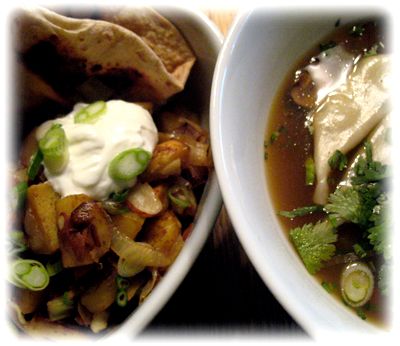 On the right, our bowl of morning soup, jazzed up with that Thai soup stock, and loaded with vegetables: onion, carrot, and translucent slices of daikon cut in flower shapes. There are a couple of vegetable dumplings floating in there, all topped with a generous handful of cilantro and mint, cut
chiffonade
.
At left, is our Indian inspired side dish. There were no greens in the fridge, so yams stood in for our vegetable, wet sauteed with sliced onions, and seasoned with garam masala and some sweet curry. At the last minute we tossed in some sliced scallions and slivered almonds, for an extra little burst of nutrients. There's a whole wheat
chapati
, toasted on our tortilla roaster, and a dollop of non-fat Greek yogurt...sort of like the sour cream on your baked potato.
Bon appetite
,
Kalí óreksi
, and
बोन अप्पेतित !