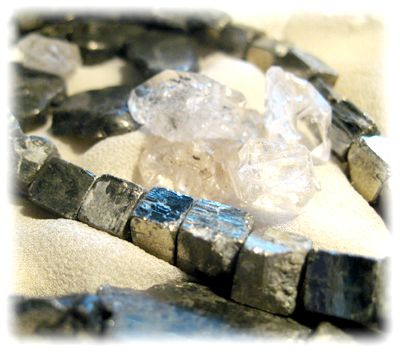 I'm being inspired by raw and rough elements lately, things that are more organic in nature, and sometimes looking as though they are unfinished or just torn from the earth. At the last gem show, I was looking for a few favorites, and found myself with trays of pearls, of course, but also these pyrite slabs, slightly tumbled, and these rough cubes, with striations on their sides that made them look like formations pushed up between rocks. I hesitated, but only slightly, before spending on the Herkimer diamonds at the center of the picture. I buy plenty of quartz, both faceted and rough, but these had a distinctly different quality.

Herkimer diamonds are double-terminated quartz crystals that have two naturally faceted ends. It is a rarer form of crystal that forms free floating clay, and are highly sought after by those who believe in the healing power of crystals, as it is claimed that the energy in the diamonds flows both ways. There's a certain warmth to them that I like as well.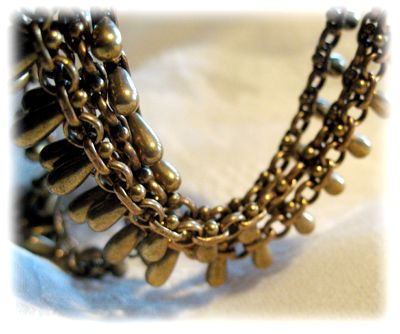 Another raw element I love is raw brass. I have been avidly hunting down some chain for clients, and found quite a bit over the past few weeks. This little bit I saved for myself, though, as I couldn't let it go. It's not even a yard long, and in two pieces at that, but is an amazing solid brass

baton

and ring chain, with sequences of solid brass beads of varying lengths, bracketed by rings. I don't know what it will become, but it is already extraordinary...

What are you creating with this week?