This culinary story started yesterday afternoon, when Alain requested that I make pesto for some shrimp he wanted to grill for friends. We were thrilled to find pine nuts (happy dance!) at Costco for around $16 a pound, roughly half of what Henry's was asking last time I checked. It took a trip to two different stores to find enough basil, and we already had the peccorino romano that I like to use. An hour later, and a kitchen that had a light sheen of extra virgin olive oil over most of it, and we were the proud purveyors of this...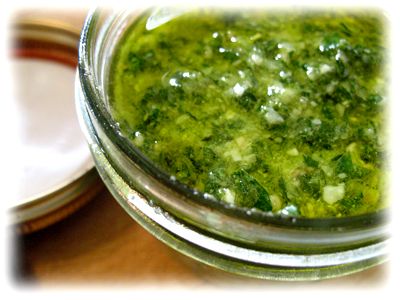 I called Bridgette at the store and told her to stop by and do a little quality control for me, which we accompanied with glasses of chilled white wine and some pieces of fresh bread, lightly toasted. The pesto passed muster, and did quite nicely on the grill last night, slathered on some skewered prawns.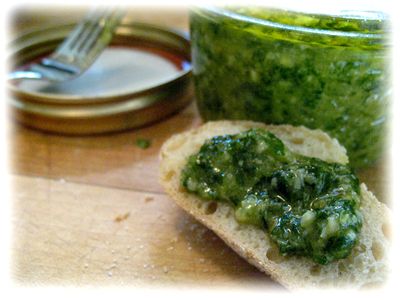 This morning, Nat and I hooked up to do a little shopping, and came home with two bags of variegated zucchini, sweet onions, peppers, and two huge portabello mushrooms. We sliced them all up, drizzled them with olive oil, gave them a grind of sea salt and coarse pepper, and a generous toss of
herbes des provence
, our favorite. Onto the grill they went in batches, and then onto a platter for a family lunch. Alain had just sent proofs off to an agency in New York he's working with, and was ready to join us for an impromptu feast.
A table!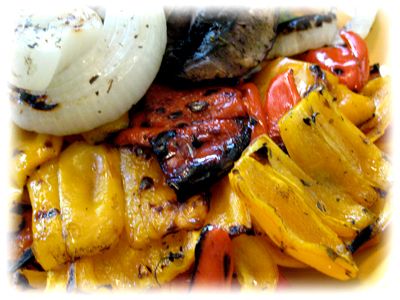 We supplemented our grilled feast with some pasta salad, toasted baguettes and the remains of a very luxurious wedge of
Delice de Bourgogne
, our most favorite and decadent dairy treat. It was such a delight to share lunch with my Bean, especially over food we cooked together....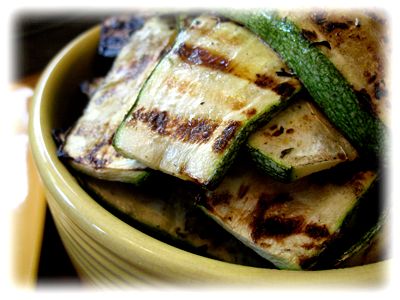 If you check in on
Honey-Bean
, you may see some more pictures of the grilling action and our pups...