I've been away for awhile, not blogging, but trying to at least connect to you all through Facebook and Instagram....what a life saver those channels are! I want to try and start being a better blogger (my daughter is a shining example of late), and I'll start with this post. I saw tons of people doing thirty days of thankful posts, and though it's too late for me to hop on that bandwagon, I would like to say that I am thankful to have you all on this journey with me.
My little store and business seem to change weekly, transforming into something different that I constantly chase after, but that's only because it is as diverse and interesting as the people who come there. I learned this year not to be frustrated by that but to celebrate it. I fell in love again with my business, and even though it drives me hard, and I work more hours than I would like, I am taking joy in what I do, every day.
This Saturday we will celebrate the beginning of the holiday season at the store, and the creativity and joy that it brings. I hope you will be able to join us as we gather and enjoy some time together before it gets too crazy...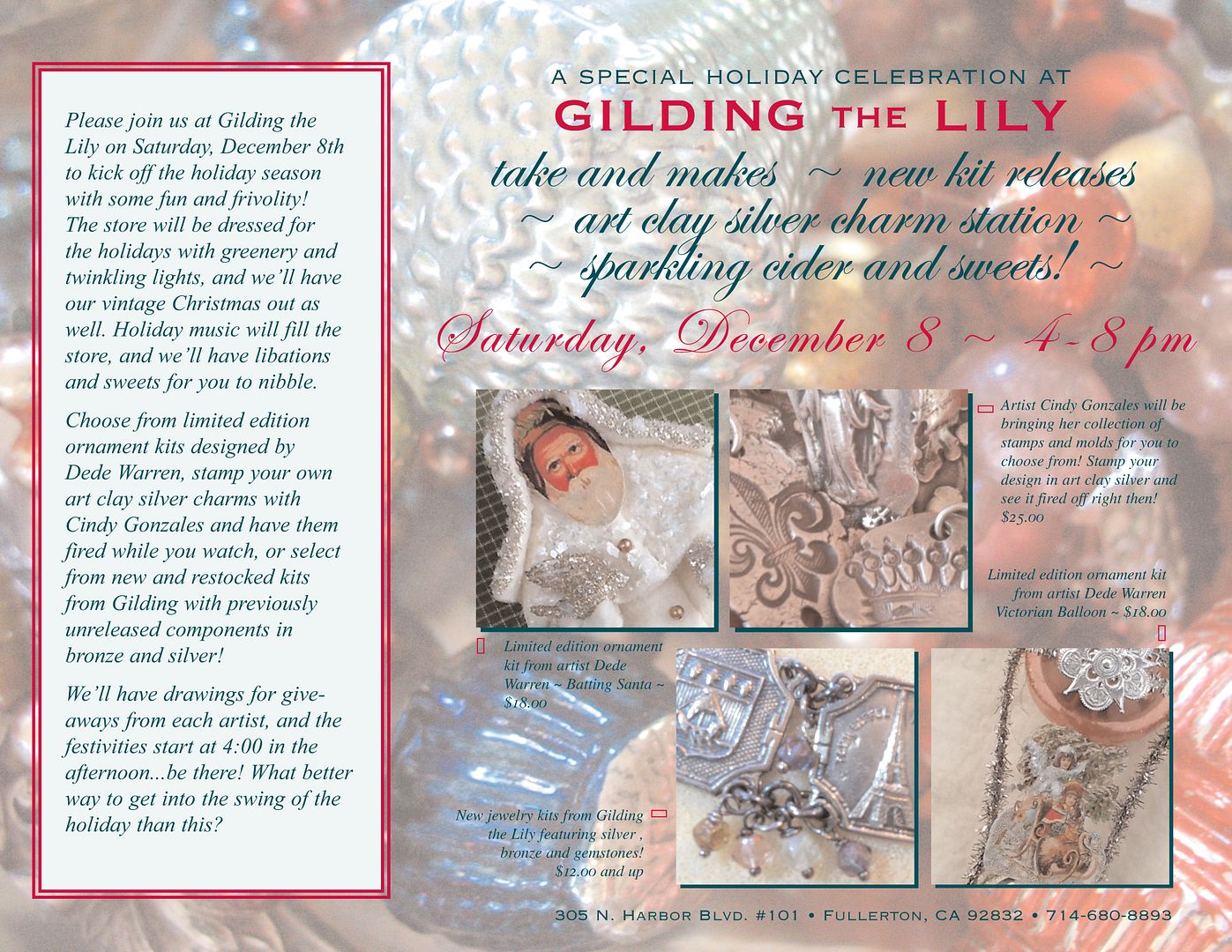 We will be featuring artists Dede Warren and Cindy Gonzales; Dede has created some wonderful ornament kits to make your holiday creating easy and fun, and Cindy will be bringing her collection of stamps and art clay silver molds to make charms. We've created some new kit designs which you may have been seeing on Facebook, and all those - as well as restocks of old favorites - will drop down on Saturday.
We have some other exciting things to debut as well, and that is our new castings in pewter and clad in sterling as well. Many new designs, including Victorian and Edwardian pieces, new medals, and beautiful riveted focals using our old and new pieces. We can't wait to show you!
Come for light refreshments, including Dede's homemade cupcakes, gourmet sweets, sparkling cider and champagne. We'll have drawings for art from Dede and Cindy, as well as items from the store, so arrive and get your tickets for the drawing first thing!
We hope to see you there, and celebrate the community that is Gilding the Lily on Saturday, December 8th, 4:00~8:00. Be there with bells on!